Announcing 2023 Calendar - Three's a Charm
Taking Orders Now!

This year each calendar will be made to order...

---
After the success of my 2022 calendar Two Sitting Ducks, I've been back at it creating you another year long injection of my work.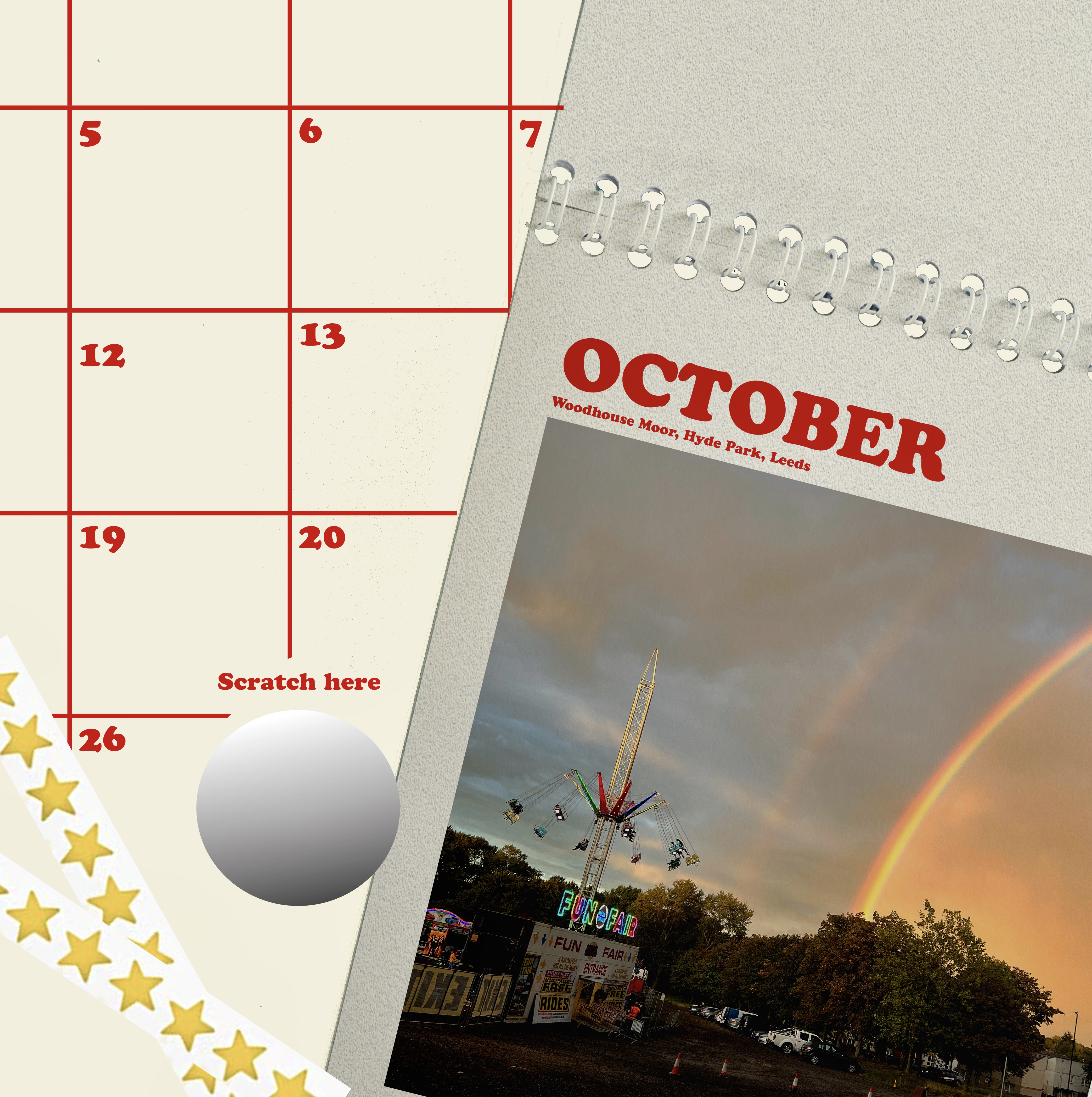 I'm actually super giddy about this one, it includes some of my favourite photos that I've taken over the last 12 months. And with thanks to my kind supportive buyers from last year I was able to make some ammends to make it even better.

This years calendar is chunkier in size (A3) meaning the photos sit much bigger on your wall, and you have more space to scribble in your upcoming plans.

Three's a Charm still includes the fun bits you loved about last years, including stickers for your fave days. I also got a bit carried away and I've added a scratch off element every month that reveals a sometimes silly and sometimes charming national day.

Its a fun one!! Order yours HERE, each calendar will be made to order this year, and will be shipped in December.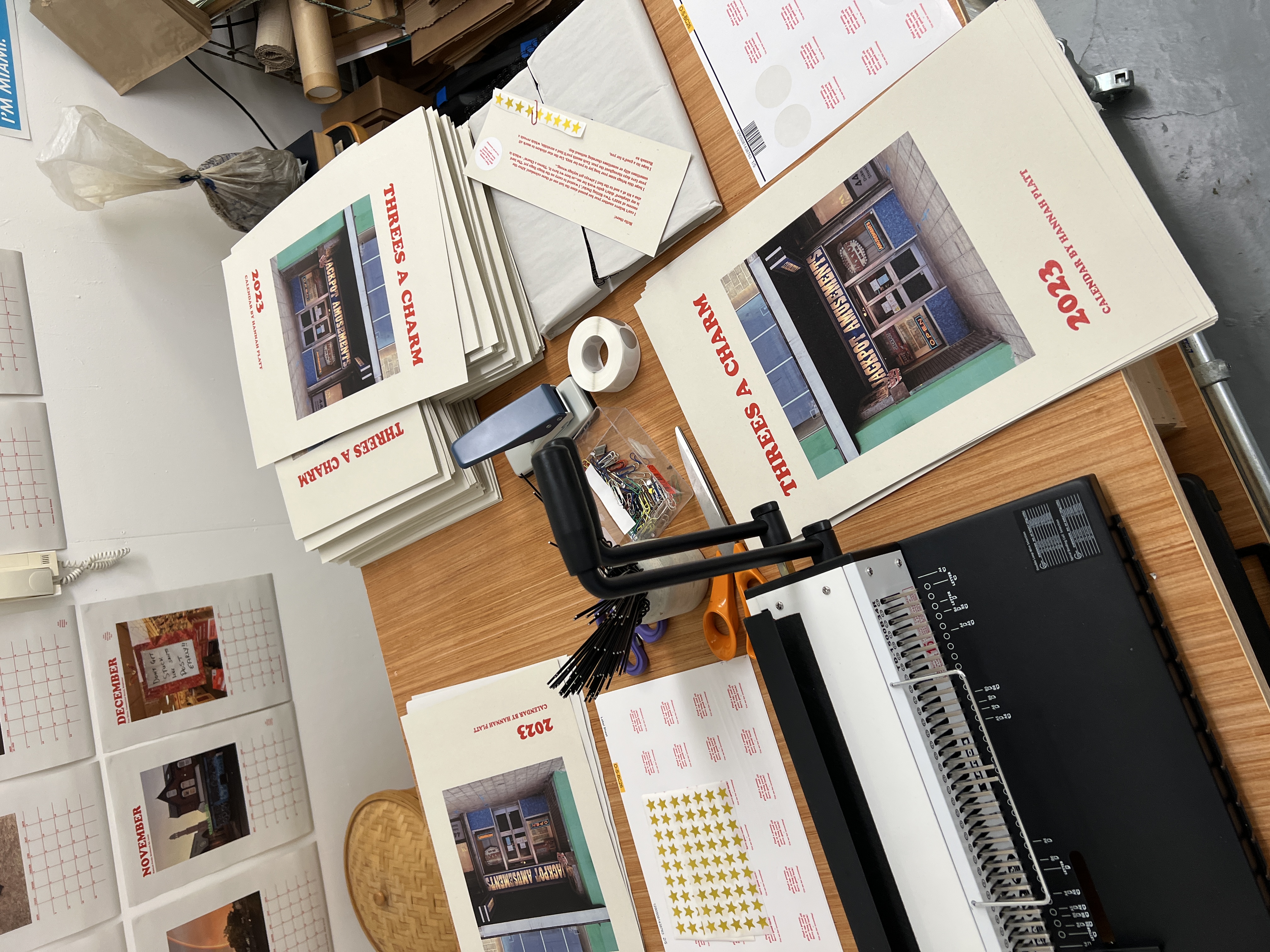 Designed and assembled by me, inc cutting, punching, and binding.

Details...
13 page
A3
Wire spiral bound
180gsm recycled paper
Includes 9 stickers for your fave fun days
Interactive scratch-off element every month
Hand-signed

Please get in touch if you have any questions...

BOP Weekend 2022
Nosey Parker Signing
Martin Parr Foundation & Royal Photographic Society

---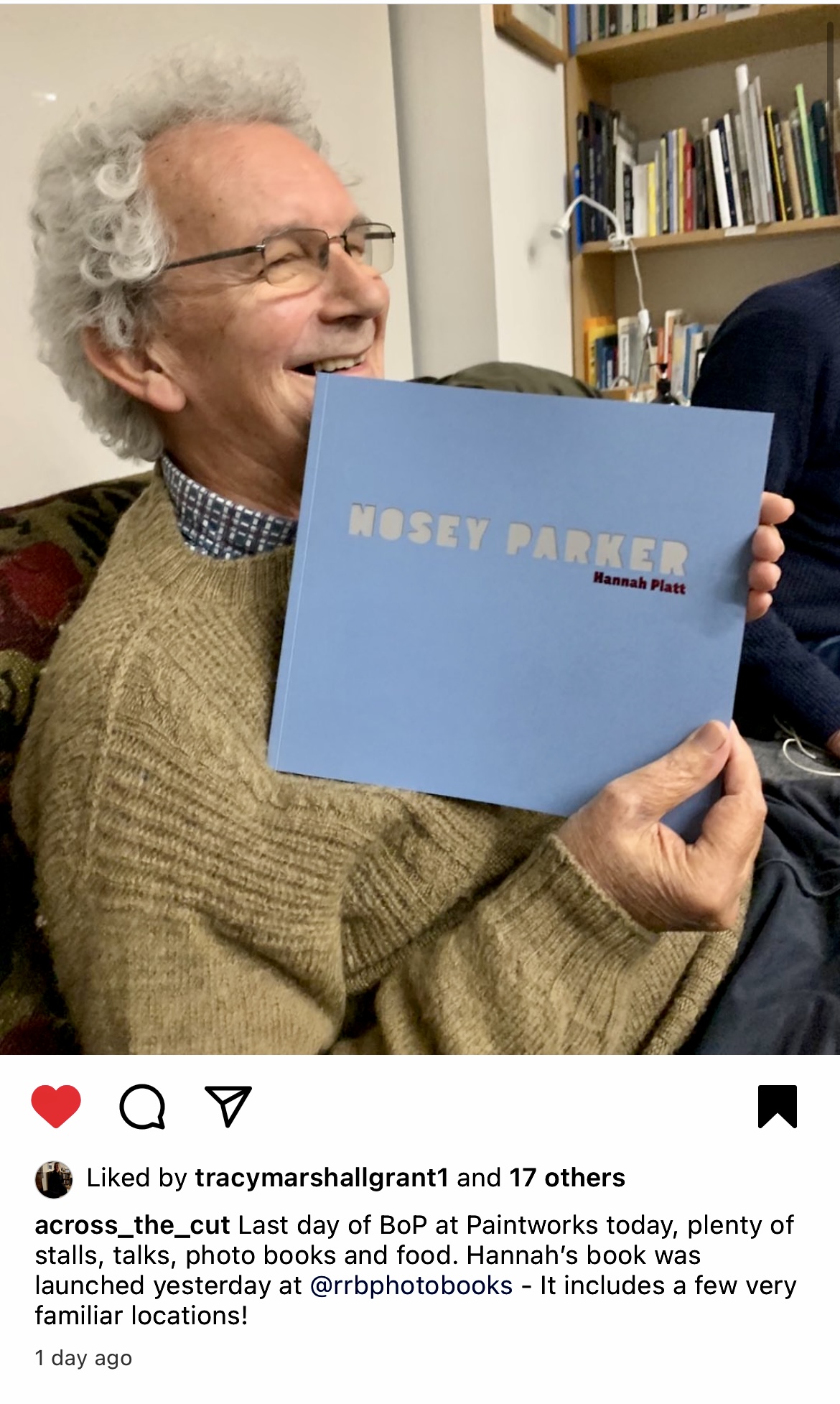 Bound Art Book Fair
Whitworth Gallery, Manchester

October 2022

---
Myself & Emma Bentley Fox were down at Bound Art Book Fair for the weekend this October. It was such a great weekend for meeting so many of you, so many artists, publishers and followers that I've had online relationships with for years. Massive thanks to everyone who purchased any books, prints & calendars - and for all the conversations I shared about my work, I'm looking forward to working with some of you in the future...

Massive thanks to Robert & Joe for having us along, see you next year?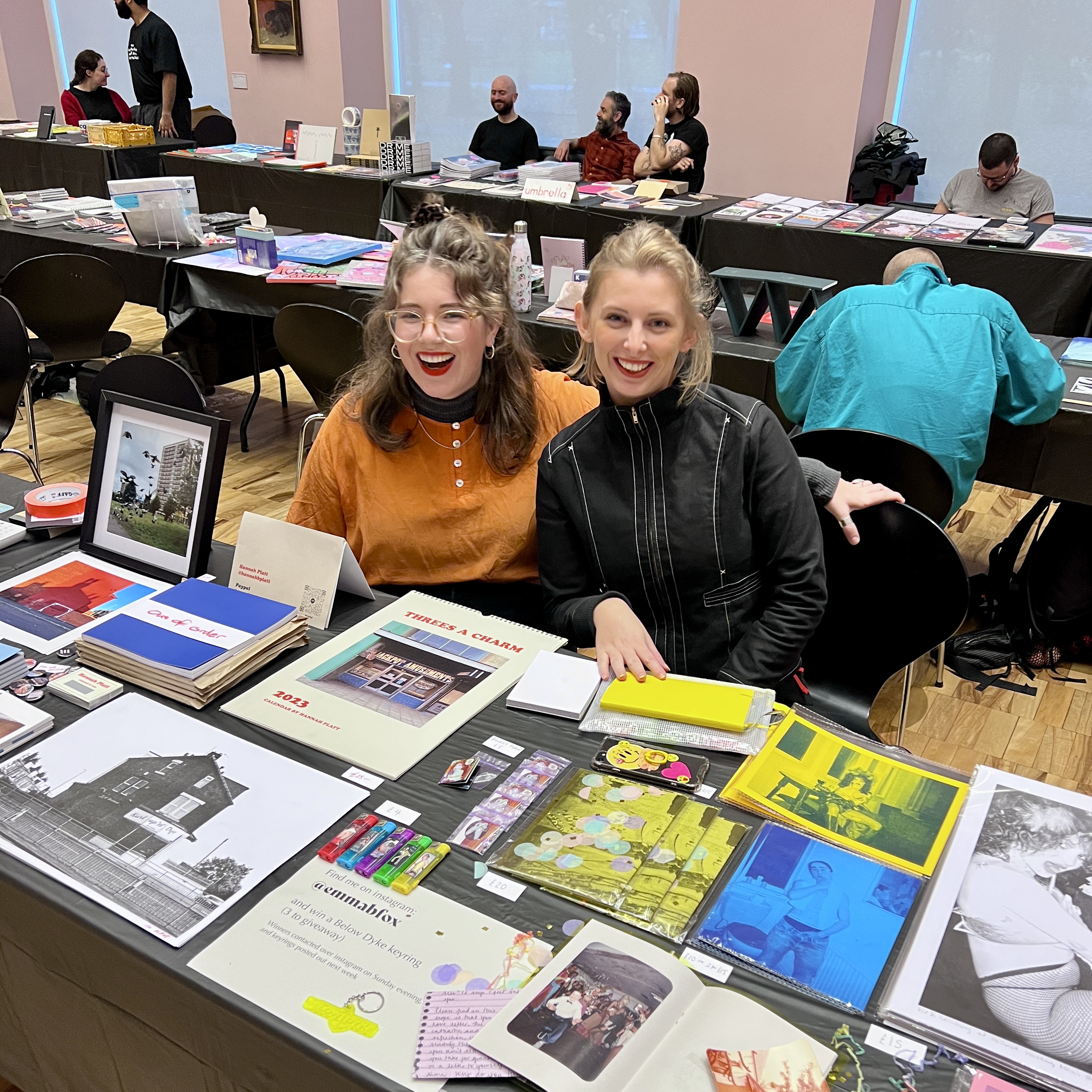 Announcing Nosey Leeds & Nosey Bristol Collectable Postcards
Produced in conjunction with Photographique and Colours May Vary

---
Hand stamped and wrapped
Produced in conjunction with Photographique and Colours May Vary
Increased availability by popular demand! 50 Leeds sets and 35 Bristol sets available

RRB Photobooks is excited to launch a new collectable set of postcards as an addition to the launch of our inaugural Platform publication, Nosey Parker by Hannah Platt.

There are two sets of postcards available, a Bristol set and a Leeds set – some images of which are featured in the book.

These are a small run of 8 images per set, all hand stamped and wrapped. Both sets have been produced in conjunction with exclusive stocklists: Photographique, for the Bristol set and with Colours May Vary, for the Leeds set.

Presented as postcards, these collectables can either be displayed and cherished or you can post them on and share them with others.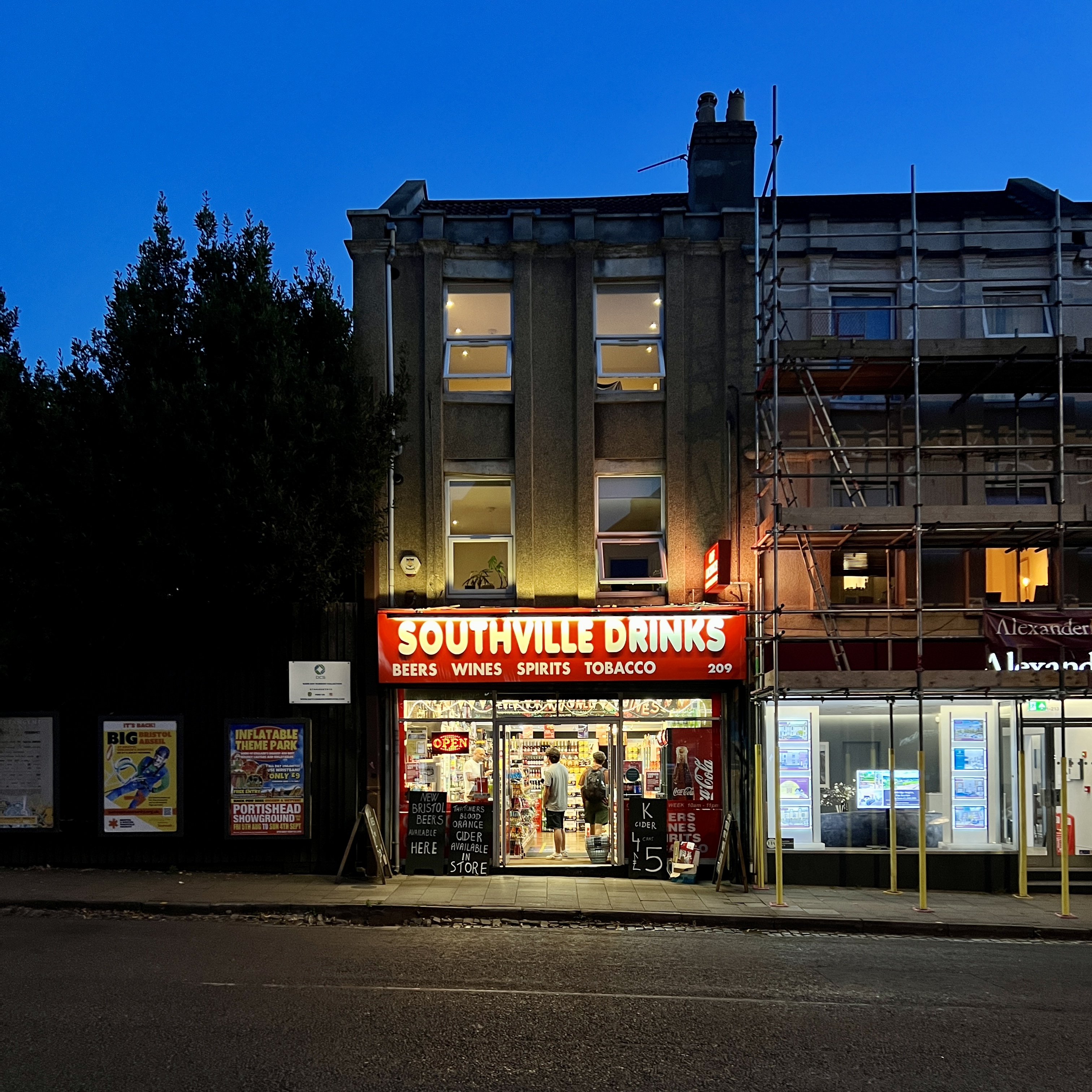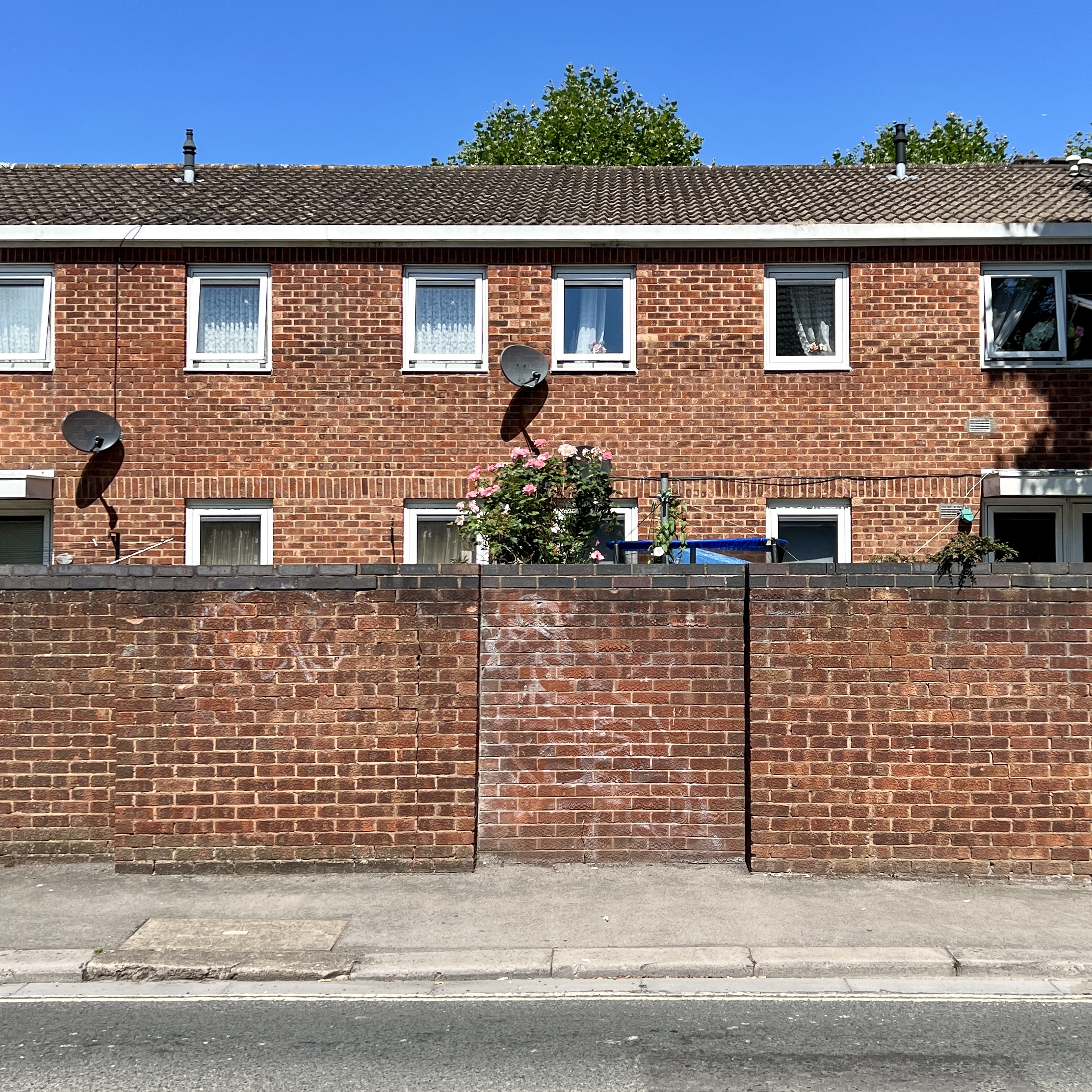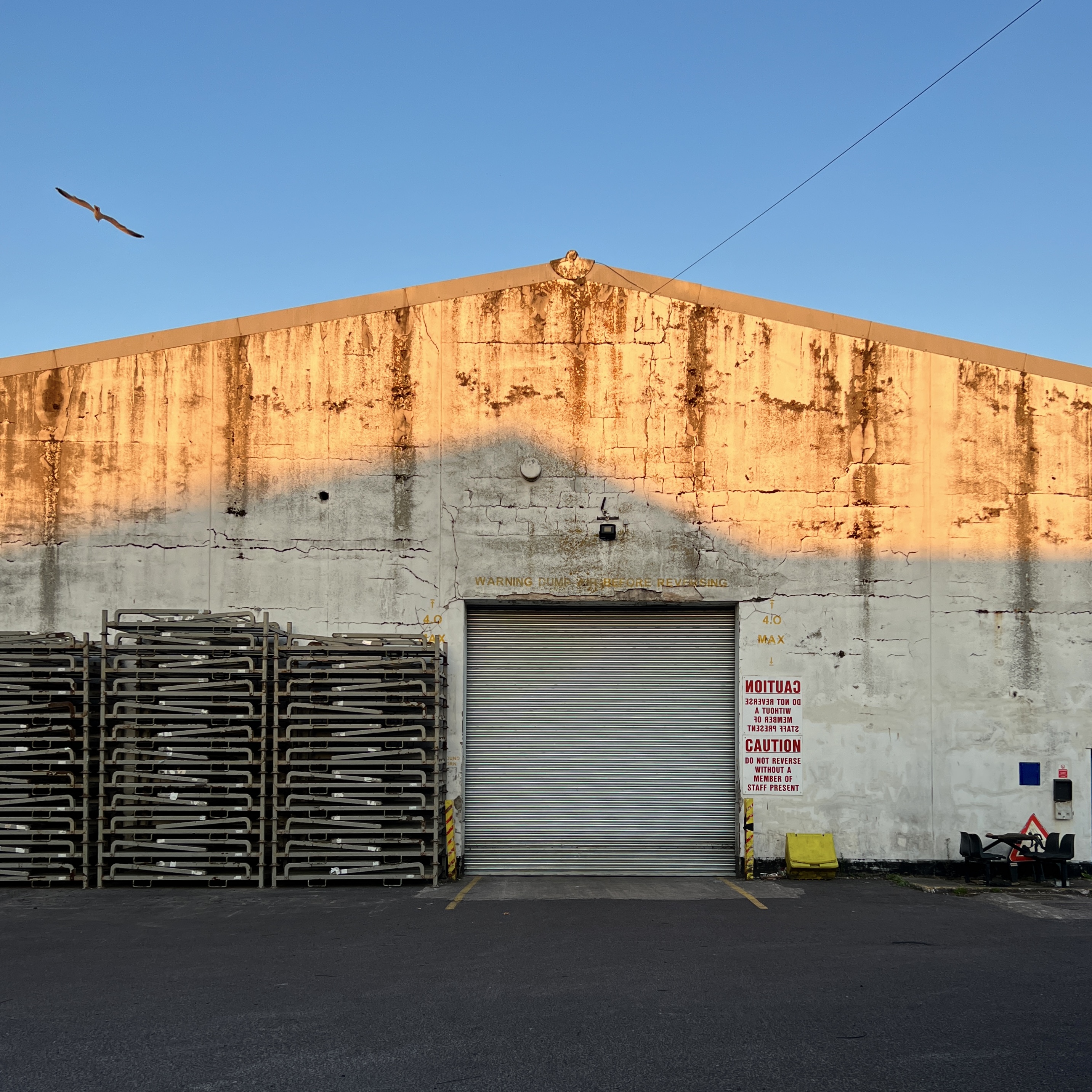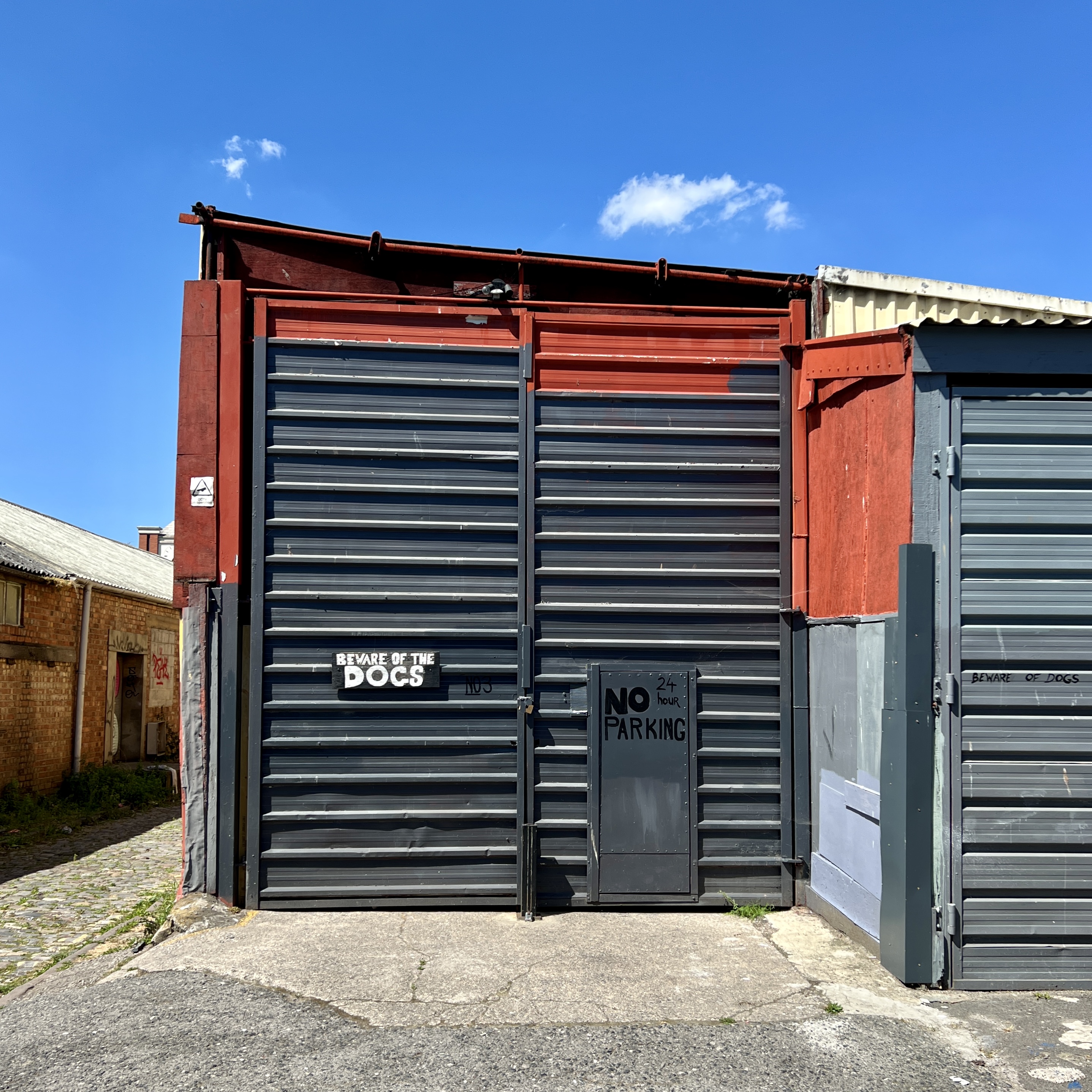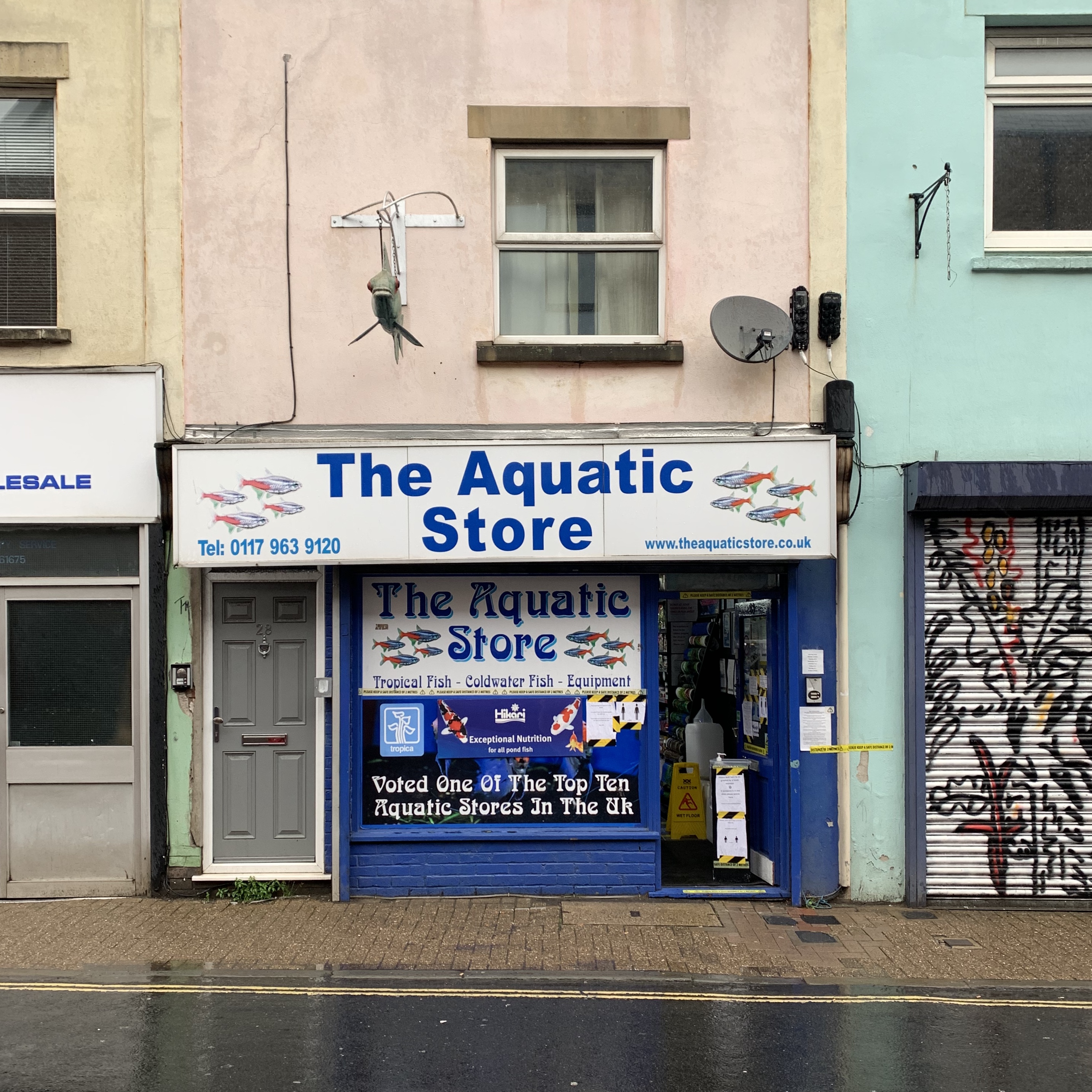 Bristol images:
1. Apple Tree, Phillip St – 8 August 2022
2. Southville Drinks, North St – 8 August 2022
3. Stan Butt Butchers, East St – 24 October 2020
4. Catherine Mead St – 8 August 2022
5. Willway St – 8 August 2022
6. Casino slots, East St – 8 August 2022
7. Stillhouse Lane – 8 August 2022
8. The Aquatic Store, North St – 24 October 2020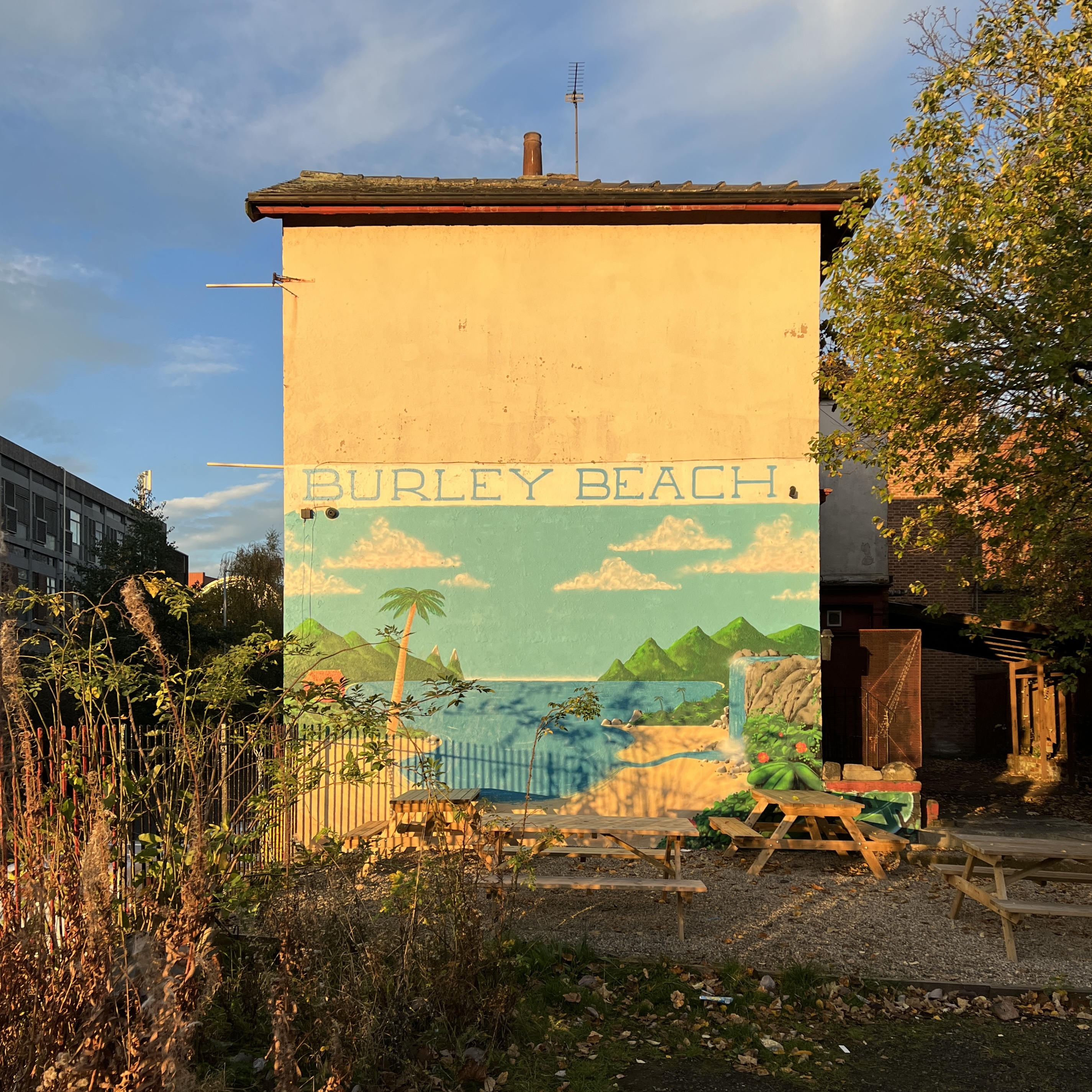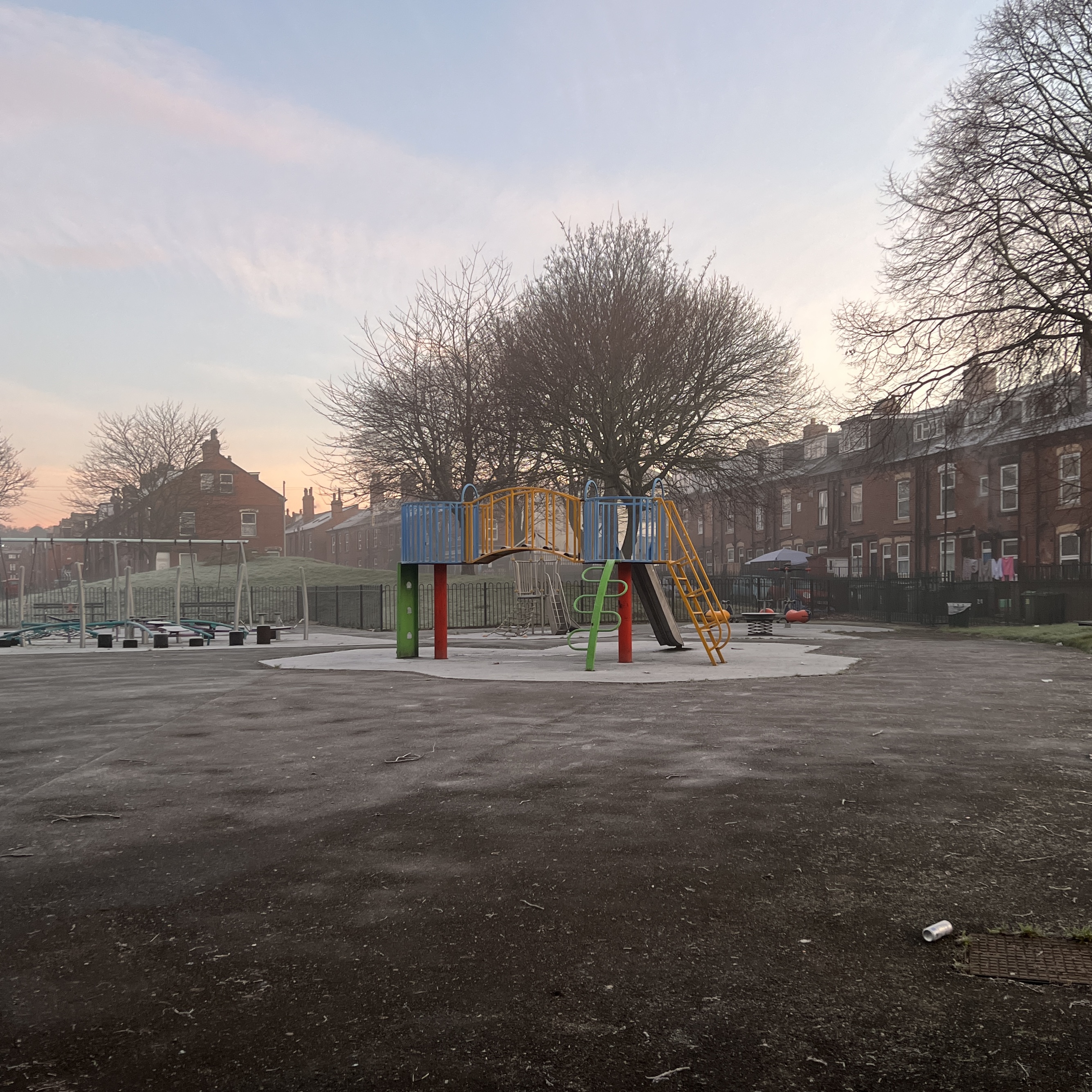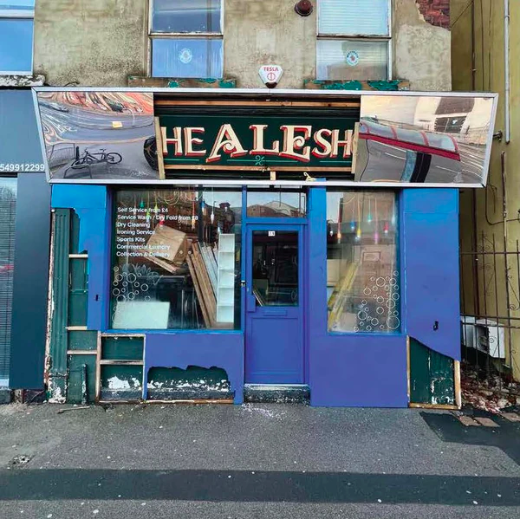 Leeds images:
9. RW Rundle, Otley Rd - 13 November 2021
10. Hendersons Café, Burley St – 19 November 2021
11. Burley Lodge Park – 18 January 2022
12. The Ale Shop, Woodhouse Ln – 1 March 2022
13. Roundhay Park – 24 May 2021
14. Leeds Trend, Harehills Rd – 25 March 2021
15. Armley Moor – 31 July 2021
16. Byron St – 22nd March 2021
Its your chance to win a copy of Nosey Parker & a C-Type Print!

---
Leeds!! I've orchestrated some fun for you all...


To celebrate the launch of my new published photo book 'Nosey Parker' I've hidden a handful of QR codes around Leeds, all of which are at locations/areas of Leeds that feature in my new book.

Take to the streets of Leeds on your own photo walk and search for the Nosey Parker QR codes, please see my map for locations & 'what three words' coordinates to help you find the locations. Take your time with it, it'll run between Monday 26th September - Thursday 13th October.

When you make it to the locations take a photo in that area in whichever style you fancy/ whatever you're drawn to or inspired by, it can be as silly or as serious as you like - I just want to see what you see. Then post the photo to your Instagram, either your grid or stories, I'm easy, just be sure to tag me (@hannahbplatt) so I see it. You'll also need to scan the QR code and fill in the google form attached to enter, so I have your contact details and whatnot.

The more locations you make it to and photograph the more entries you'll have for the draw. They'll be a copy of the book & a c-type print up for grabs for the draw winner, I'll also be giving out a handful of Risograph prints for my favourite photos from the draw.

1. High Court Ln- Leeds City Centre (///goats.vent.seated)
2. Templar Street - Leeds City Centre (///cheat.churn.legend)
3. Burley Street - Burley (///vase.items.upper)
4. Armley Moor - Armley (///calls.hogs.pure)
5. Burley Lodge Park - Hyde Park (///keep.race.rotate)
6. Brudenell Rd - Hyde Park ( ///branch.saves.owner)
7. Otley Rd - Headingley (///mess.volume.kinds)
8. Education Rd (Meanwood Rd) - Meanwood (///nation.skip.mouse)
9 & 10 Harehills Rd & Ln (///prom.lined.earth) (///memo.cups.ranges) (I love Harehills)
11. Macaulay St - Mabgate (///crew.moral.final)

If you do participate, I ask that you're gracious on your walk, be respectful to communities, and recognise your privilege as a photographer. If that means choosing not to take a particular photo, then please consider that.

Have fun, and fingers crossed for the draw...

The draw will be announced on the evening of the launch, and the book & print prize can be arranged to be collected from Colours May Vary.

Can't get out and about, but want to play along?
Please get in touch - hannahbplatt@gmail.com